Many of you will associate Front Lounge with fashion.
But this wasn't part of our story until 2017 when, on request, we started running clothes-making workshops. Eventually, these workshops transformed into the Kindred Clothing Award, a course that gives learners a foundational insight into the fashion industry.
However, there would be no Kindred Clothing without the drive and generosity of an incredible cast of tutors and businesses who teach, inspire and uplift. Collectively, they form our Clothes Making Learning Partnership.
So, who are they, why do they bother, what do they know?
*
Involved from day one is Samantha Paton, Founder of Dundee fashion house Isolated Heroes.
A key player in developing and fine-tuning our qualifications, Samantha is one of our most passionate, colourful and much-loved tutors. But it's her drive to expose learners to the industry that really makes a difference.
She said, "For me, the most important thing is empowering those who are unemployed, a bit lost or unsure where their ambitions lie, and bringing them into the industry they're so passionate about.  By building relationships with them, boosting their confidence and widening their circle, we can boost their employability for life. We do that through mentoring but also by recruiting them as freelancers.
"Kindred Clothing has become my first port of call for extra help when grappling with a huge order or peak seasons. I'd much rather tap into the Kindred Clothing community than a recruitment service – not just because I'm confident that Kindred Clothing graduates have the skills to support my business but because I know them and can see their dedication and enthusiasm."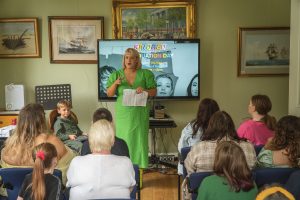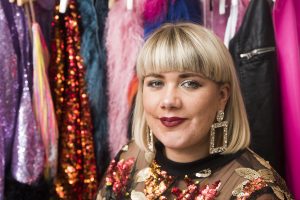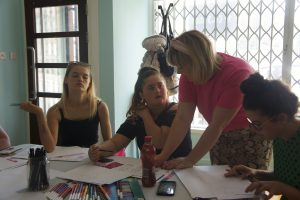 *
Of course, with such a tight-knit creative community, it's no surprise that one tutor leads to the next, and that's where Gillian McIver from Andie comes in, recommended to get involved by Samantha.
Gillian was brought in because of her pattern drafting skills and has tutored every cohort from the first online group in lockdown 2020.
Gillian said, "I don't feel that different from the learners. I grew up in Kirkton in the 1990s. It was pretty chaotic and there were a lot of barriers to getting on in life. My behaviour wasn't up to much at school so, after leaving, I went to college and did my Highers. I ended up applying to do Biomedical Science at university and, although I was offered a place, I changed my mind as my heart just wasn't in it."
Inspired by her sewing-mad mum, who taught her to sew from a young age, Gillian then signed up for Fashion and Retail at Dundee and Angus College and set up her own business halfway through the course.
"I love sharing my skills and watching the learners progress, whether through tutoring or having them into the studio for some work experience. There's also a real emotional connection for me which explains why, every graduation, I'm known for shedding a tear!"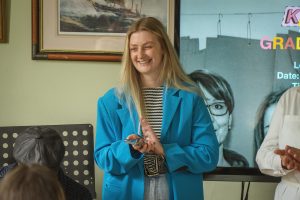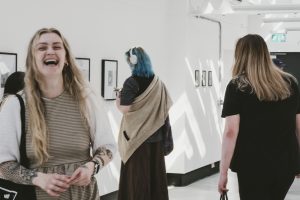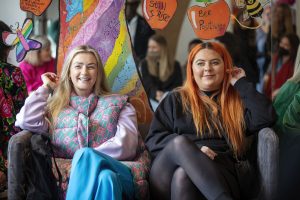 *
Meanwhile, Nicole Doig from Dundee's Dots 'n' Stripes has also been with us from our early days.
Because her day job is teaching people to sew, Nicole is accustomed to supporting people of all ages and abilities.
Nicole said, "Teaching sewing skills is a hands-on process.  Most people are visual learners. They need to see the process to understand it. However, through Kindred Clothing, I've learnt that it can be done online; it's just different. We have to be flexible in our approach; there will always be a reason why someone can't be there on a particular day, or they might live hundreds or thousands of miles away.
"For me, it's about the transformation in people. When something clicks, when the learner starts to 'get it', and things fall into place, it's a real goosebump moment for me.  That's the reward for me as a tutor, seeing them g row in confidence and realise they can do something!"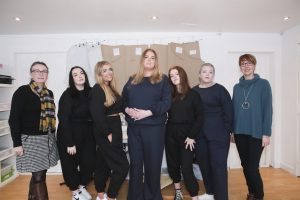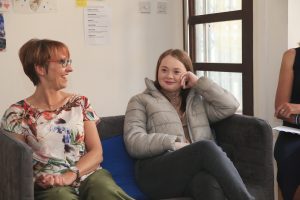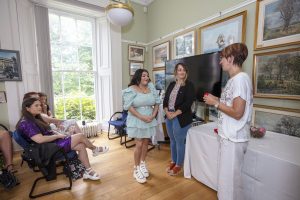 *
Another local businesswoman supporting us is Dundee clothes designer Georgia McLaren.
Georgia, who runs Off The Hook from a shared studio space with Gillian, discovered Front Lounge by observing Gillian's work with the charity.
Georgia said, "When I saw what Gillian was doing with Front Lounge, I knew I had to get involved. Everything they were doing aligned with my own values. I was a young mum at 16 and brought up my nieces after the death of my sister, so life has had its challenges. I had lots of support but know that many people are less fortunate."
With years of SQA assessor and internal verifying experience, Georgia has also been heavily involved in the assessor side of Kindred Clothing.
"I'm living proof that you can do things your way. I'm always telling the learners they can achieve anything, that there's always a way. I see these young people and my heart jumps. I love seeing that spark in them, watching them flourish."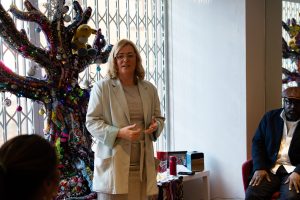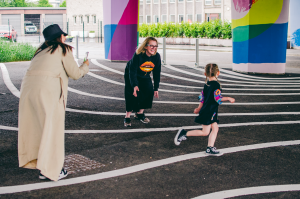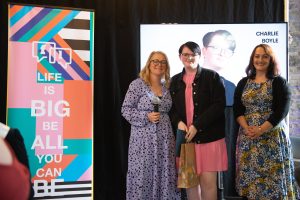 *
The fifth unit of Kindred Clothing is 'Showcase', featuring two non-making units, 'Photography' and 'What's Your Story?'.
'What's Your Story?' Is delivered by local PR consultant Claire Grainger from Grainger Public Relations. Claire, a former Radio Tay journalist, teaches learners how to tell their story.
Offering a very different style of tutoring from the makers, Claire challenges the learners to promote their imaginary clothes-making business, from designing a logo, devising a brand name and preparing an elevator pitch, to crafting a social media post launching their business to the masses.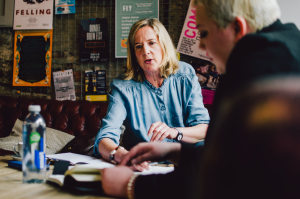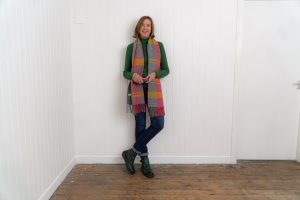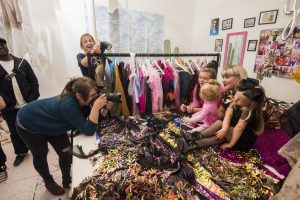 'Photography' embraces the adage: a picture is worth a thousand words, which is where Grant Keelan of PPG Photography comes in. When not photographing his own gorgeous daughter, Grant teaches learners how to use photography to promote their designs.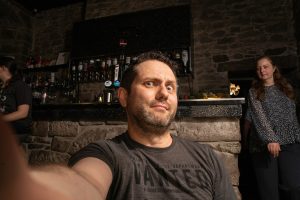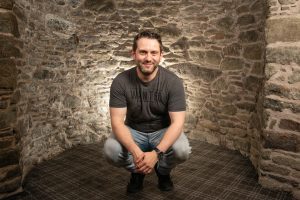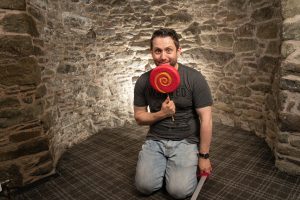 He's also responsible for capturing some of our most memorable moments including the laughter, tears and fun of our end-of-term graduation.
If you'd like to get involved in Kindred Clothing – whether as a tutor, assessor or mentor – please get in touch – email hello@frontlounge.org, call (01382) 220330 or visit www.frontlounge.org