Working from home – no longer a phenomenon. Now a norm.
But for the young people we support at Front Lounge, we provide a home as part of our offering, a safe space to connect, explore ideas and shape futures.
For almost 20 years, The Workshop on Dundee's Hilltown has been the beating heart of our charity – a charity which has supported around 40,000 people, many of whom are now scattered across the world.
It may be small, but thousands of young people have passed through The Workshop in that time, from local bands, photographers and artists to dancers, young parents, babies, toddlers and seamstresses.
So how did we get here, and where are we going?
Attempting to dilute two decades of stories into a coffee and a chat, our Project Leader said,
"In 2004, when the charity was called Pure Media UK, we were in the thick of the KenART Heritage Project. We were meeting in different places each week, paying as we went. The young people involved were frustrated at not having a regular meeting place, so one of the artists, Sarah Wang (nee Waine), approached Dundee City Council's property team. With the help of Vincent Guz, Property Manager at the time, a shortlist of properties was drawn up. After inspecting all the properties Sarah and her friends decided that 205 - 207 Hilltown should become our new home.

So why Hilltown? It was a very deliberate decision to base ourselves on Hilltown. From the get-go, visibility and profile were not our priority: it was about making a difference and transforming some of the less-heralded parts of the city. And at the time, Hilltown, located to the north of Dundee's main shopping and commercial district, was very much the picture of inner city blight. Stacie Robertson (nee Murdoch) first coined the term 'The Workshop' - we all agreed that it was not a drop-in but a place where young people could come if they had work to do. These people would come with a purpose because they wanted to be there."

Chika Inatimi
Signing the contract in March 2004, we unveiled The Workshop four months later by showcasing the wonderful KenART Heritage Project exhibition.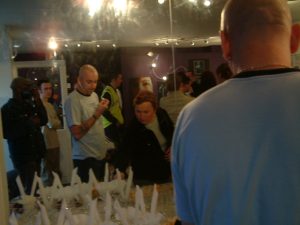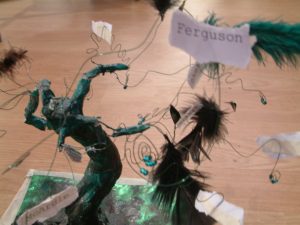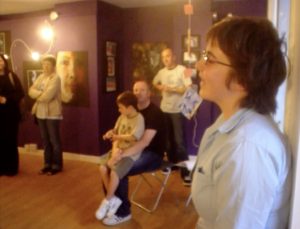 What goes on at The Workshop?
Since then, unbeknown to many passers-by, the space has been the home of a number of high-profile projects including the Ultimate Chill, Bringing up Baby (BUBS), Changing Faces of the Hilltown and, most recently, Kindred Clothing.
With an evolving interior dictated by the young people using the space, The Workshop has been a dance studio, a theatre, a recording studio, a film production suite, a radio station, a meeting room, a workshop space, an office, an art studio, a gallery, a darkroom, a photography studio, a youth centre and, more recently, a playroom, a livestream broadcast studio, a learning centre and a garment production studio.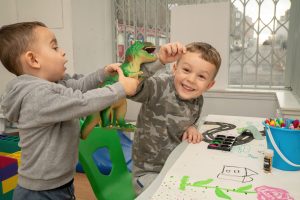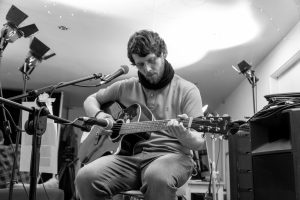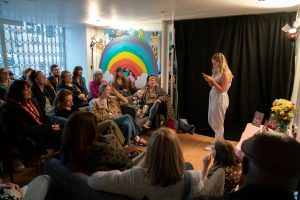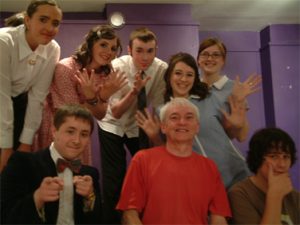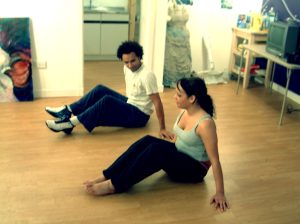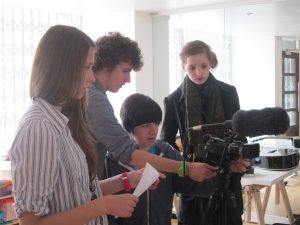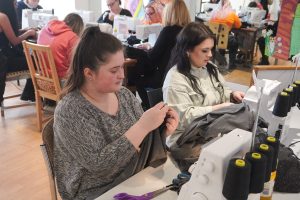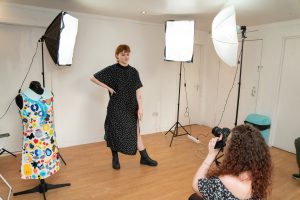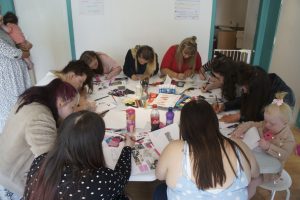 There's nothing better than hearing how much our young people love The Workshop, whether they're attending a food and music-filled celebratory event, showcasing their work to family and friends, or knuckling down to complete Kindred Clothing coursework.
During the first Covid-19 lockdown of 2020, we held a series of Hope Hub livestreams aimed at connecting people and engaging those struggling at home.
Jacqueline Goodall, who has been involved with Front Lounge since 2018, said,
"One memory that stands out for me would be when we had our online Hope Hub event for the Scotland x South Africa event. This project emerged from the pandemic and being able to share the physical and online space that was created at The Workshop after lockdown changed our way of connecting. It was exciting being able to reconnect with everyone, meet new people and share art, music and conversation with an international audience all from The Workshop. It's amazing to see the transformation of the space through the many different projects but this was definitely a highlight!"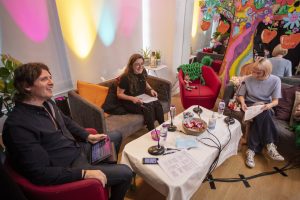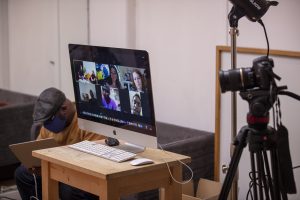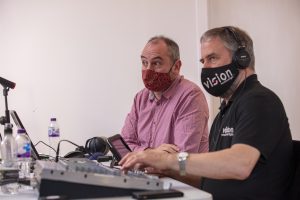 But, despite the demands we place on it, hasn't the unit's diminutive stature been a challenge?
"There's no getting away from the fact that The Workshop is a small space. However, it fits with who we are. The Workshop is a place where ideas grow and develop but our people take these ideas, run with them and move on. We're not in the business of holding onto people. We want them to explore their ideas here, work out next steps and overcome challenges. Our building encourages that principle. In many ways, its size has been its secret weapon. A small space is easier to take responsibility for – our young people sometimes let themselves in. That requires responsibility and discipline but somehow that feels easier with a smaller space."

Chika Inatimi
Lisa Williamson, Stacie Robertson (nee Murdoch), Sarah Wang (nee Waine) and Alexander Anderson were granted a Scotland UnLtd Award back in 2004. This money plus the original vision for the premises, along with a plethora of friends and supporters, laid the foundation for what The Workshop has become today: everything that happens in the space is dictated by the demands and desires of the people we support.
The potential for The Workshop is endless. We can't wait to see what projects take seed here in the months and years ahead, projects that will change lives, plant hope in the next generation, and inspire change.
Long live The Workshop!