Front Lounge has always been a place of conversation.
They're not always ground-breaking or earth-shattering conversations, but they happen because they need to. Someone starts a conversation and, in most cases, it develops into something else.
When Amy Deans was 18, with her two-month-old son in tow, she came to our Bringing up Baby group. She had no pre-conceived ideas, no set expectations.  What she did have was hope.  Why?
I'd tried out another playgroup in Dundee and knew, as soon as I walked in, that I didn't fit in. I didn't know anyone with kids and felt alone. However well-meaning, that group didn't work for me as a young parent. BUBS, in contrast, was created for and by young parents. It was a safe place where we could meet with no judgement. We were all in a similar situation and, after just two visits, it felt like home and, although I didn't know it then, that's exactly what I needed.
Amy later signed up for the Kindred Clothing course, taught online due to the Covid-19 lockdowns. By then a mother-of-two, Amy said,
We were never meant to do Kindred Clothing online, but that was the only option as we couldn't meet up. I often signed onto the Zoom sessions with my baby boy on my knee and my eldest running around in the background. I was probably at my lowest at that time, severely depressed after my second son, to the point of being suicidal. I could hardly keep my head above water. We were also in lockdown; things were tough but I got through it, completed Kindred Clothing and graduated in the summer of 2021.
Amy then went on to become a volunteer playworker at Front Lounge. While the next cohort of learners progressed through the Kindred Clothing sessions, she entertained and looked after their children with activities, arts and crafts, stories and snacks.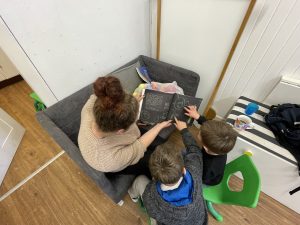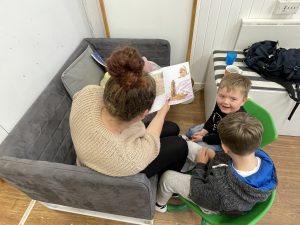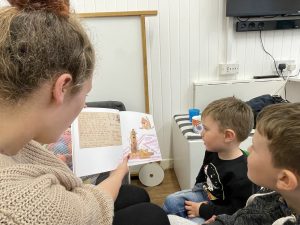 I did that because I'd been there myself. I knew how it felt to want something, to be working towards an outcome, but it's not easy when you've got a baby or child with you, who you can't just drop off at a nursery or a granny's. Not everyone has that. I never had a big family to turn to in times of crisis, so I turned to Front Lounge.
Indeed, Amy's relationship with Front Lounge has been one constant during a life of mental health struggles, relationship problems and house moves.  Describing the charity as a 'life-saver, on more than one occasion', Amy added,
The Front Lounge team have been part of my life for so long and are always there for me. I had nothing and no-one. I've dragged my feet so many times but they're always encouraging me to do more, to keep going.
Fast forward to 2022 and Amy is now a Development Worker with Front Lounge.
In many ways, it's hard to believe I'm the same person. If it wasn't for Front Lounge, I'd still be in the same place, plodding along with the day-to-day, avoiding people and existing rather than living. I'm very aware that we're changing lives here, but I'm also aware that I've not reached my potential yet. I'm still growing and learning and have so much more to achieve. Front Lounge has enabled me to see a future for myself and I'm so grateful for that.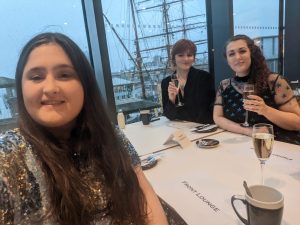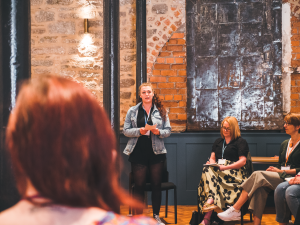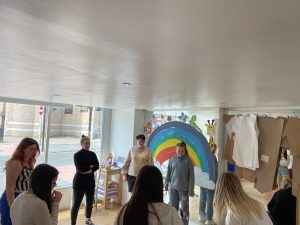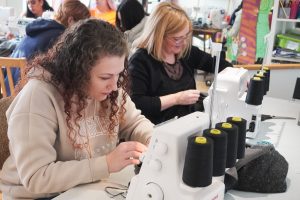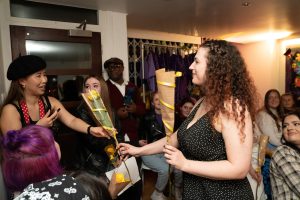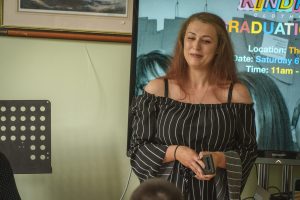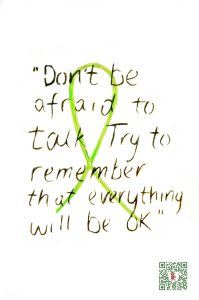 And going back to these all-important conversations … they happen again and again.
Rewind to 2018 when Michael Elliott and Marie Gibson, two young people with profound mental health challenges at the time, wanted to share their stories.
This desire to open up and encourage others to do the same marked the start of the Foolish Optimism project which saw the creation and launch of a film, followed by a nationwide tour and roadshow.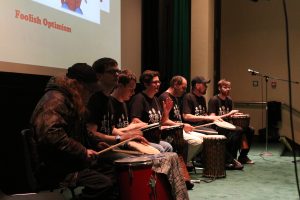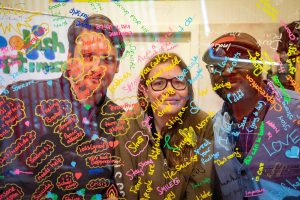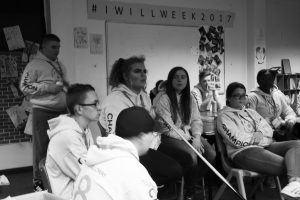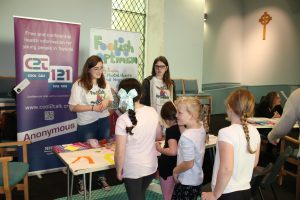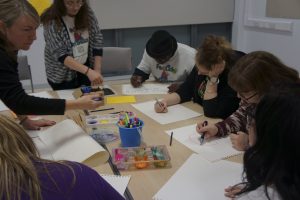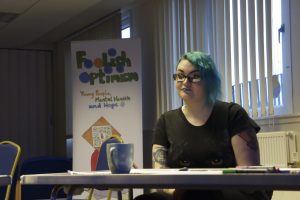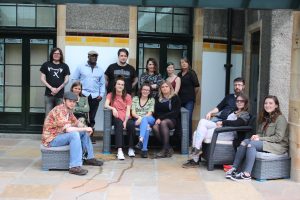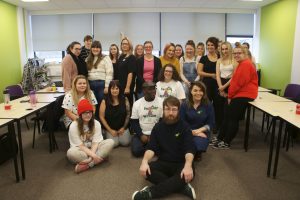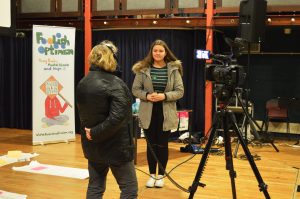 Foolish Optimism sparked mental health conversations all over Scotland. We found a language for people's emotions and experiences and enabled them to speak out. This marked a real mood change.
Now, years on, we continue to support young people struggling with their mental health throughout all our projects. We know from demand that people are struggling and that can't be ignored. However, by starting conversations, which can be tough to do, you can kick-start meaningful, enjoyable projects and activities such as Kindred Clothing to help create a focus and a passion.
Chika Inatimi, Project Leader of Front Lounge, added,
It's incredible to hear Amy and others reflect on their life in this way. Although we are not a mental health charity, everything we do impacts mental health. The effect can be subtle, and it's never a quick fix. We met Amy when she was 18. It's taken years to get to this point where she trusts us to support her. Many of the people we meet are not accustomed to trust. They trust no-one and they question kindness, thinking we want something back. From signposting to welcoming people into our projects, we're here to help those we encounter find their way and Amy's certainly on that path.
I want to be someone else's Front Lounge, to be what the charity has been for me. Being alone with nobody to reach out to is terrifying. If I can be that person for one other person, I've achieved something.